For school districts, stocking up for the new school year is a methodical process that occurs months in advance. For teachers, it's a thoughtful analysis of what can be reused, donated, borrowed or bought. 
For families, getting materials could include a visit to a back-to-school event with free giveaways, a last minute run to the local discount store, or the agonizing realization they can't afford or find access to the colorful notebooks or expensive graphing calculators their children need.
As students, families, teachers and school districts prepare for the new school year, many organizations are tracking how much is being spent, when the buying takes place and what is being purchased. 
Teachers spent an average of $820.14 in the 2022-23 school year from their personal budgets for classroom supplies, according to an analysis by My eLearning World, a resource site for virtual learning technology and approaches. In total, teachers were expected to spend $3 billion on supplies last school year. 
These out-of-pocket expenses are stressful and even cause some educators to leave the profession, according to the National Education Association, the nation's largest teachers union.
To help address this need, several large and small corporations are crowdsourcing teachers' classroom wishlists. Walmart, for instance, this summer launched a classroom registry where teachers can plan, shop and share their classroom needs. Amazon Business promotes its own procurement tool to help districts and educators make purchases. 
Nonprofit organizations are also helping teachers stock up on supplies. AdoptAClassroom.org allows teachers to create a fundraising page so donors can send money to a classroom, school or other type of fund. The nonprofit said in the last 25 years, donors have contributed a total of $65 million. 
Teachers can receive an up to $300 tax deduction to offset classroom supply purchases and other educator expenses. Bicameral legislation in Congress proposes to increase that amount to $500 and expand it to cover early childhood educators. 
In addition, many school systems and local groups hold back-to-school events providing free school supplies. Some localities provide free supplies to all families who attend these events. Chicago Public Schools, for example, held several Back-to-School Bashes featuring giveaways of backpacks, rulers and notebooks, along with meetups, music, food, games and information on health resources.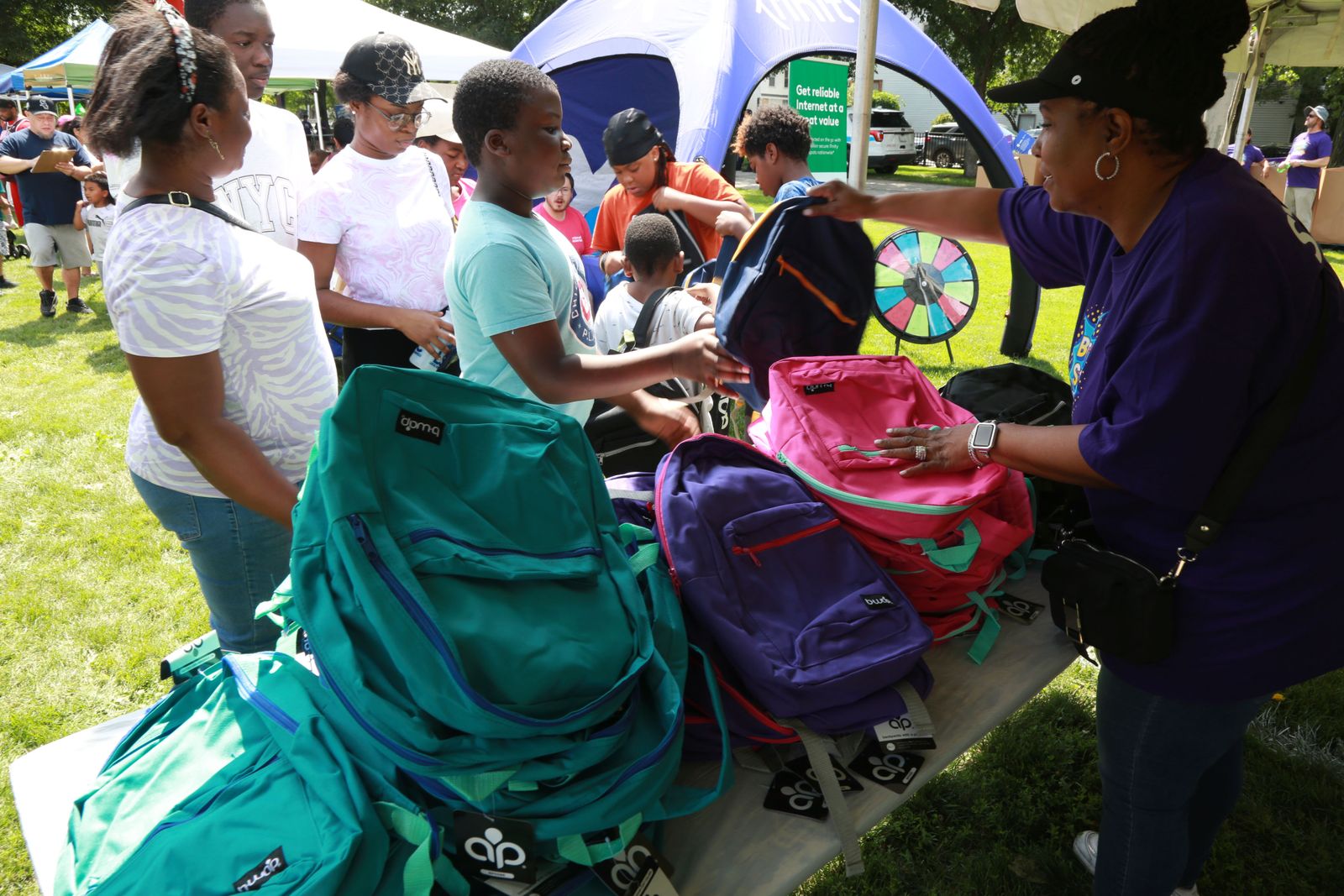 Baby chicks and sports equipment
School systems typically purchase school supplies — including sports equipment, curricula, maintenance supplies and more — year-round. On average, districts spent about 7% of their budgets in 2019-20 on supplies, including books and heating oil, according to the National Center for Education Statistics.
In Osseo Area Schools in Maple Grove, Minnesota, the purchasing of supplies for the upcoming school year began in the spring, said Anne Ramsey, the district's coordinator of purchasing and warehousing.
The procurement process is centralized, meaning every order goes through one office. The 17-school, 20,000-student school district issues about 5,000 purchase orders each year. For the fiscal year that ran July 1, 2022, to June 30, 2023, the school system spent around $2 million on classroom supplies, Ramsey said. 
Those purchases ranged from general office supplies to equipment for art classes to baby chicks and worms for science lessons. Items growing in popularity include educational software and materials for robotics classes and clubs, Ramsey said. 
Physical books remain the district's largest expense, even as more digital learning is taking place, she said. What has begun to fall out of favor over the last five years are materials for traditional home economics classes, such as sewing supplies, she said.
The procurement and purchasing process for the district can be complex because of state and federal rules regarding the spending of public money — and because each spending request needs to be vetted or may require a bidding process.
"It's more complicated than it seems," Ramsey said. "One of the primary responsibilities of a procurement department, especially a centralized procurement department, is risk mitigation, making sure we're doing everything right."
Families also feeling the pinch
As families watch their children go back into classrooms this fall, many will also feel their wallets become lighter. 
Back-to-school spending is expected to be higher than ever, at $41.5 billion going into the 2023-24 school year. That's up from $36.9 billion from last year, according to the National Retail Federation, a membership organization that advocates for the industry. 
Total expected back-to-school spending increased 52% in last decade
Expenses per household to prepare for the school year are expected to be $890 this year.
Parents' most common back-to-school purchases are for electronics or computer equipment, clothes, shoes and school supplies, according to a consumer survey by Statista, a data research company.
Another back-to-school spending survey by JLL, a commercial real estate and investment management firm, also found parents expected to spend more this year than last year — nearly 16% more — to get their children ready for school.
However, a survey of parents by auditing and consulting company Deloitte found they expected to spend 10% less on school-related items, down from $661 in 2022 to $597 this year. The spending pullback is due to inflation concerns, the survey results show. 
Another survey by InMarket, a consumer research company, found families budget $200 to $1,000 for back to school, with the most common amount being $250 to $500. 
Top on the list were clothes, paper products and writing utensils, respondents to this survey said. For higher education, food was expected to be the most common purchase followed by towels and storage bins.
Whatever the purchase and cost, a common result from these surveys is that parents are shopping early and looking for ways to save.
"Consumers are stretching their dollars by comparing prices, considering off-brand or store-brand items, and are more likely to shop at discount stores than last year," said Phil Rist, executive executive vice president of strategy for Prosper Insights and Analytics, in a July statement about back-to-school shopping activities. 
Back-to-school state-run tax holidays also help families stretch their dollars. According to the Federation of Tax Administrators, 11 states have tax holidays for school supplies, giving shoppers a limited time to make purchases without paying sales tax. Several other states have tax holidays for clothing, footwear and electronics.