As COVID-19 vaccines roll out at varying paces, districts are setting up school-based clinics and working with local health organizations to get shots to school staff at other community vaccination events. 
"We all know schools get used for a lot of different events...they're a real center of a community and so it's not difficult to set something like that up," said Kathleen Ethier, a public health official at the Centers for Disease Control and Prevention, during a March webinar. 
While this process has been arduous for many administrators, it has been equally rewarding, they say. 
"See it as an opportunity to save lives," said Krestin Bahr, superintendent of Eatonville School District #404 in Washington. "It is a once in a lifetime opportunity to partner with medical professionals to do something bigger than you've ever done before." 
Nurture relationships with local health organizations and pharmacies
Districts are working with neighboring schools, pharmacies, hospitals and health departments to organize school staff vaccination events. Some have also benefited from nurturing relationships with local health departments during this process. 
Winfried Feneberg, superintendent of New Hampshire's Kearsarge Regional School District, said his schools were "on the top of the list" when vaccines became available as a result of the nursing staff's pre-established relationships with the local public health network. The district scheduled vaccinations for approximately 325 of its 400 school staff who received their first shot at a school-based clinic on March 19. 
Others had to dig to find doses. Brian Toth, superintendent of St. Marys Area School District in Pennsylvania, repeatedly called the local hospital, pharmacy and health center over the course of several weeks to inquire about getting eligible staff vaccinated. "We offered to each of those different providers, 'If you need to use a space to vaccinate general public, our staff [or] staff from other schools, let us know. We have the space,'" Toth said. 
Eventually, Toth got word from a local pharmacy that it would prioritize the district's highest-need teachers. The local hospital also successfully ran two vaccination clinics out of St. Marys Area High School's gymnasium. 
Pre-plan using signup sheets 
Superintendents who spoke to K-12 Dive said planning for vaccination clinics can take anywhere from a few days to months, depending on availability and the readiness of local pharmacies or hospitals to prioritize school staff. However long the waiting period, though, it is still important to pre-plan. 
"It was our intention that we didn't want to waste a single shot," said Feneberg. "It's too precious right now." 
To avoid this, many districts sent out forms for teachers to fill out ahead of time, asking basic questions like names and eligibility status. "We sent out a districtwide notification that we had that clinic set up," said Feneberg. "Within 5 minutes, we had 30 people sign up."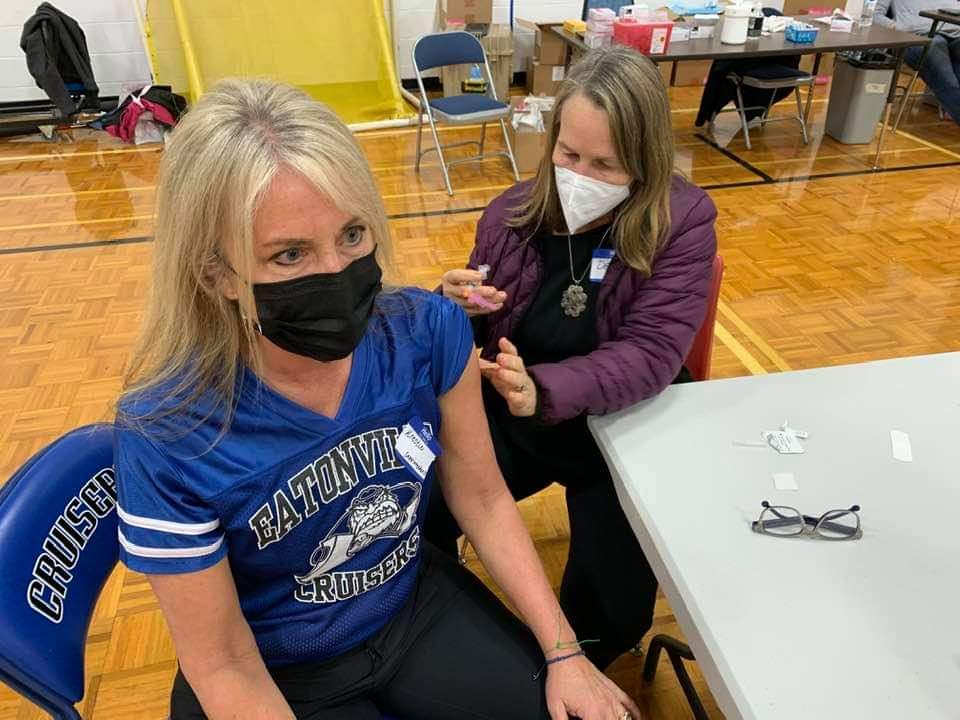 "Planning took several hours, to sort through the lists and make sure information we had was correct," said Feneberg. Lists of those signed up for vaccination are often shared with the coordinating organization or network, such as the public health network or local pharmacy ordering the doses. While setting up clinics at schools rarely costs districts, there is manpower required to gather and organize this information. 
Districts also designated HR personnel or assistants to sort though the signups and ensure appointments were made within 15- or 30-minute intervals, depending on the location's capacity. 
"You need a big space, need to have the personnel, and make sure you have what you're going to do very organized, and let the people know," Toth said. "Otherwise they'll just show up in a group, and that's not going to work." 
His district, alongside others collaborating to also get their staffs vaccinated, sent personalized emails with information about procedures to those signed up. "And to double check, there were even some old-fashioned phone calls made," Toth said, adding his district reached out to no-shows. 
How to pick a day, time and location
Many districts report choosing Fridays or weekends for school-based clinics.
"We staggered our staff across multiple opportunities and also tried to get as many in on Thursdays or Fridays to allow for weekend time to recover," said Heidi Sipe, superintendent of Oregon's Umatilla School District. She added that she also coordinated staff appointments to ensure coverage for anyone who needed time off. 
Some districts designated vaccination days as a professional development or teacher workshop day with no required contact with students. Those coordinating with local pharmacies, like Toth's district, provided teachers time off during the day to go get vaccinated and return, provided they didn't have an adverse reaction. 
Gyms and cafeterias, which offer the most space, are often superintendents' go-to spots to set up in-school clinics. Justin Henry, superintendent of Goddard Public Schools in Kansas, used a middle school on the east side of his district and said he also considered teachers' home addresses when choosing a site.
Other variables to consider include dismissal times (as some schools may dismiss earlier than others, providing a space sooner), parking availability and how easily the outside community can find the building. In cases where neighboring districts or the general public also attended school-based vaccination events, districts report using areas well-known to the community, like high school gyms. 
Avoiding privacy concerns and navigating other challenges
While districts required staff seeking vaccinations to sign up, many reported not requiring identifiable health information. "We didn't question who was eligible," said Toth. "If you say you're obese, OK." 
Sipe said her district protected the information as it would other personally identifiable health information, such as Family and Medical Leave Act requests. Lists were also often handled by HR staff to ensure information remained confidential and not available to other employees working on the sites. 
Henry added the only data his district had was when staff signed up for a time slot.
While many superintendents reported more upsides — such as the opportunity to build partnerships, help others and get positive PR — they did cite time, personnel and space constraints as challenges. Another challenge is how, and whether, to differentiate between vaccinated and non-vaccinated staff. 
"Now that our staff has had an opportunity to have access to the vaccine, staff who chose not to have the vaccine are held to the same expectations as vaccinated staff," said Allison Shew, spokesperson for Eatonville School District. This means unless staff have a medical exemption, schools in the district are back in a hybrid learning model for secondary students and fully in-person for elementary, regardless of vaccination status.
Despite the challenges, superintendents say they feel a sense of both duty and relief in hosting the clinics or getting staff vaccinated through other means. "The emotional toll of COVID truly hit me when my staff all had their first round of vaccination opportunities completed," Sipe said. "I hadn't fully recognized my level of worry until it was gone."