This article is the first installment of Expectations for ESSER, a series examining the implications of the federal government's one-time, historic infusion of flexible funding to triage projects designed to blunt the impact of COVID-19 on schools. For the full series, click here.
Louisiana's Catahoula Parish has a lot going against it. The population is declining and so too is school enrollment. Catahoula Parish Schools, in fact, was at one point the area's largest employer but now that honor belongs to a construction company.
"We're a small, rural area, kind of in the middle of — I call it — 'no man's land,'" said Christi Lofton, the school system's volunteer business manager.
The area's income levels are so low, all students in the district can receive free breakfast and lunch through the U.S. Department of Agriculture's Community Eligibility Provision.
So the $8.9 million — equal to almost half the district's annual budget — allocated to the 1,000- student Catahoula Parish Schools in federal pandemic emergency relief funding has helped infuse hope, pride and much-needed resources throughout the district's five schools, Lofton said.
The funding fast-tracked district plans to renovate an entire floor of a school building where the roof had long ago been rain damaged. The district has been able to purchase devices and masks for every single student. And each school will get new HVAC systems, because, "I don't know how much you know about Louisiana, but it's hot. It's very hot," Lofton said.
The remaining federal relief funding, known as Elementary and Secondary School Emergency Relief, will go to a variety of learning initiatives, professional development, internet connections and more.
"It's been mind-boggling what we've been able to do" with the funds, she said.
Across the nation, school systems like Catahoula Parish are running through their wish lists — crossing off to-do projects that would have needed bond approvals or years of saving and planning — with a collective $189.5 billion from ESSER money to be spent across five or more school years. 
In some districts, the ESSER funding compares to between one-fourth and one-half of their annual budgets.
The ESSER funding is separated into three different allocations, known as ESSER I, II, and III, with ESSER III — also known as the American Rescue Plan, or ARP, funds — being the largest source of revenue at $121.9 billion. 
For perspective, the entire FY 2022 U.S. Department of Education annual appropriation is $76.4 billion. ESSER funding is the largest one-time federal appropriation to K-12 schools, equal to an additional $3,660 per pupil, according to the American Enterprise Institute, a conservative-leaning think tank.
ESSER III is largest one-time federal investment in K-12
Added together, ESSER funding equals $189.5 billion.
And while educators say the historic amount of money has freed them to swiftly react to pandemic safety concerns and student learning needs — as well as ignite dormant improvement projects almost overnight — there's constant pressure to show returns on their investments. 
There's also growing nervousness that a September 2024 use-it-or-lose-it deadline for making commitments to spend ARP funds will force education leaders to make hasty budget decisions.
Even as administrators are laser-focused on immediate needs for learning recovery and social-emotional supports, the nagging reality is that the money that has done so much to revitalize school systems like Catahoula Parish has a hard stop. 
ESSER highlights from Catahoula Parish Schools
Connecting students to the internet was one of the Louisiana district's biggest expenditures.
That makes it difficult to plan for impactful and sustainable improvements, some administrators said. The spending deadline also sets the stage for a funding cliff where years of prosperity will be followed by an abrupt return to normal spending levels. 
Protecting their districts from a harsh drop in revenue in two years should be one of school administrators' main concerns right now, said Marguerite Roza, director of Edunomics Lab at Georgetown University.
But, Roza fears, "some people are running straight off a cliff."
'A

once in a many lifetimes situation'
Before discussing the challenges of ESSER planning and spending, however, district leaders are eager to emphasize how vital the additional funds are to school recovery and improvements. One school system aims to complete its 10-year strategic plan with its ESSER money. Another totally eliminated school suspensions. Many districts opened free summer learning and enrichment programs to every student.
Most invested in personal protective equipment and COVID-19 testing to make it safer to attend and teach in schools during the public health crisis.
In creating the three funding streams that make up ESSER, Congress gave school systems lots of runway to determine how to spend their allocations. The main directive is that ESSER spending be "an allowable expenditure" in response to the pandemic's impact on preschool, elementary and secondary school students. 
Ed Department guidance tells school systems that spending should provide equitable opportunities to students. Guidance also directs state education agencies not to limit districts' formula funds — state revenues that are distributed to adequately and equitably support districts. 
That flexibility has allowed districts to think big, and aim not only for recovery but a reset toward improvement.
That's the mantra guiding recovery efforts in New York's White Plains Public Schools, where two years after sending students home to learn remotely because of an infectious and mysterious new virus, the district had a 98% in-person attendance rate this spring, said Superintendent Joseph Ricca.  District and school staff are working more efficiently and collaboratively both within school buildings and with community partners for approaches in responding to pandemic and nonpandemic needs, he said.
ARP highlights from White Plains Public Schools
The New York school district is using a majority of its ARP funding for infrastructure.
The 7,000-student school district received $9.8 million in ARP funding, which equals about 7% of its 2022-23 school year budget of $244.8 million. Other COVID-related funding from ESSER, the Federal Emergency Management Agency and federal grants tally to an additional $16.5 million for the district, said Ann Vaccaro-Tiech, the district's assistant superintendent for business. 
Much of the ARP funding is going to upgrade HVAC systems in all schools in the White Plains district. Those facility improvements will bring strong air conditioning, allowing schools to stay open in summer months for learning and enrichment programs, said Ricca. Without the ARP funds, a bond approval for this infrastructure investment, plus years and years of phased upgrades would have been required, he said. 
Using ESSER funding, the district also built outdoor classrooms, added playgrounds, and provided all district employees with a $50 monthly wellness incentive for 10 months to use as they wish, among other projects, Ricca said.  
The federal emergency funding "is a once in a many lifetimes situation, and, you know, for us, we wanted to make sure that we utilize these tax dollars in a way that was going to provide for a return on this investment in the longest time frame possible, and to reach and support as many children as you can," Ricca said.
"We want to make sure that number one, we're using these tax dollars in a way that the return will be coming for years, that they're not flash in the pan and we also understand that there's a limit to what government can do in terms of support," Ricca added.
While Ricca and other district leaders tout what ESSER funding has provided, there are still challenges money can't fix. To Ricca, one of the biggest is meeting the daily needs of thousands of people, each going through their own pandemic hardships.
"Sickness, death, fear, and social discord and social divisiveness — not in White Plains but permeating all around the country — all of these things were extraordinarily challenging," Ricca said.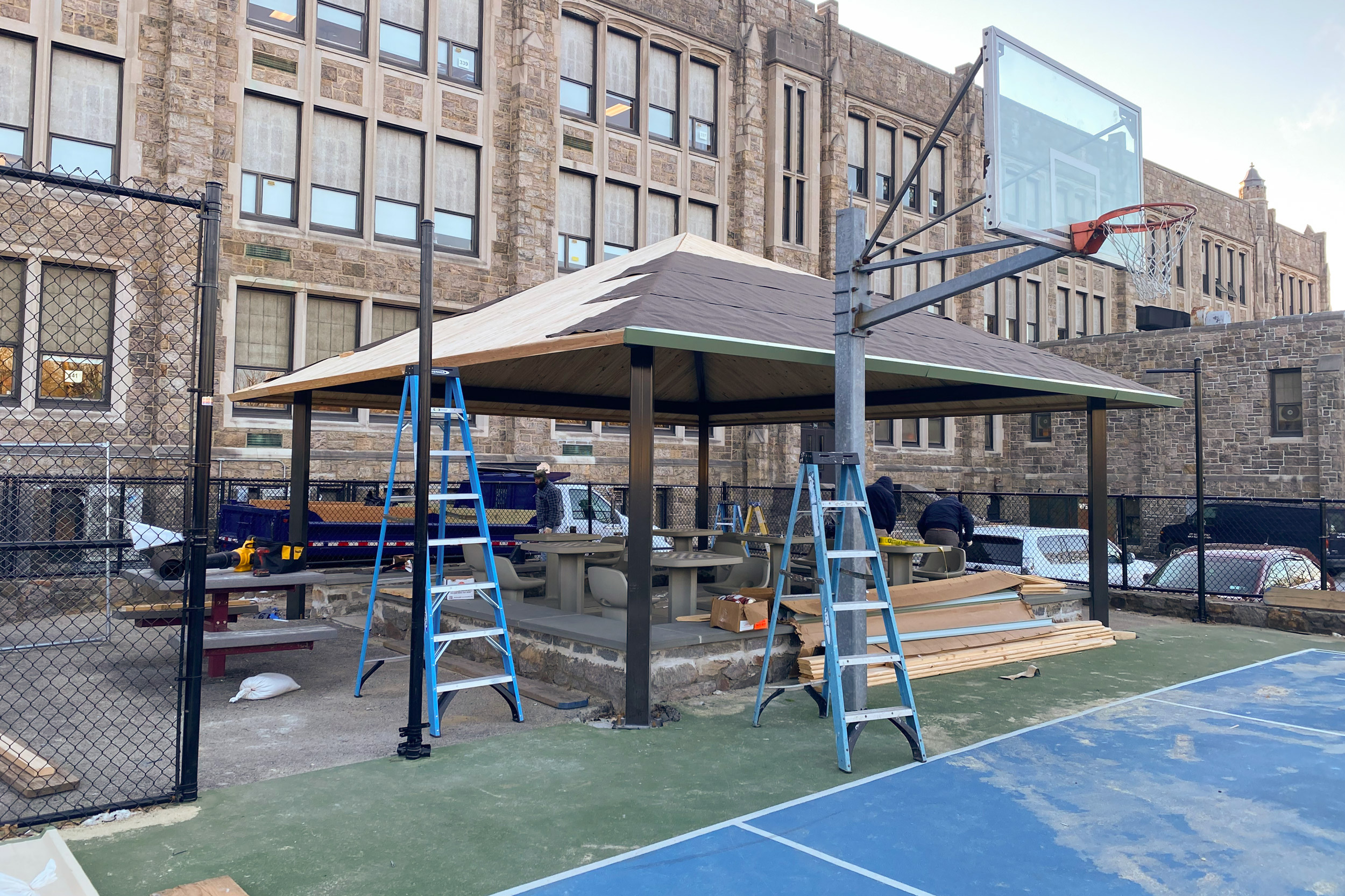 Not a silver bullet
The large amount of flexible funding and swiftness of the funding's arrival in school districts' accounts was a huge benefit, especially in spring 2020 as schools transitioned quickly to online learning, said Julia Martin, legislative director at Brustein & Manasevit, a Washington, D.C.-based law firm specializing in education, workforce and grants management.
The biggest hardship Martin hears from school system clients is that they have enough money and freedom to pay for what they want — a unique situation to be sure — but they're running into supply barriers. For instance, some districts have the funds to hire additional staff but can't recruit enough people, or they want to purchase air purifiers but vendors lack inventory. 
Typically, schools need more funding than they receive and their federal allocations often come with spending mandates, she said.
"There is a lot of demand and there is very little supply for the things that schools and districts need most," Martin said. "And those are things like everything from teachers and bus drivers to concrete things like portable air purifiers and portable classrooms to limit crowding and expand space."
ESSER's progressive deadlines for spending are also causing stress, she said. 
"The tricky thing here though, is all of this stuff that you do with ESSER dollars is not going to be sustainable," Martin said. "So unless you have another source of funds to carry that on, it really is a temporary project." 
Explaining ESSER
What: The Elementary and Secondary School Emergency Relief fund combines three allocations approved by Congress in 2020 and 2021, known as ESSER I, II and III. ESSER III is also known as the American Rescue Plan (ARP).
How Much: ESSER's pre-K-12 funding adds up to $189.5 billion. The ESSER I allocation is $13.2 billion. ESSER II totals $54.3 billion, and ESSER III is the largest pandemic education assistance package at $122 billion. In addition, Congress set aside a total of $7 billion for pandemic relief for schools through the Governor's Emergency Education Relief fund, or GEER.
When: Obligation deadlines set by Congress differ for each of the ESSER allocations. For ESSER I, schools must commit to spending projects by Sept. 30, 2022. For ESSER II, the deadline is Sept. 30, 2023, and for ESSER III, it's Sept. 30, 2024. The funds must be liquidated — or spent — within 120 calendar days after those dates. The U.S. Department of Education, however, is allowing an 18-month spending extension for districts for each of the ESSER allocations based on "specific facts and circumstances."
Another note of concern is that many school systems, particularly ones in low-income communities, were underfunded before the pandemic. So in these districts, the federal COVID-19 relief funding is just patching up preexisting deficits. 
At best, money is being used for changes to practices and protocols that will have real longevity. At worst, there will be political fallout if there is no proof the funding led to improvements in equitable access and opportunities. 
---
What these funds are not intended for is to be a silver bullet or panacea to solve all inequities in education, or to balance things out for years of underinvestment of federal education funding before the pandemic, and that's what I feel gets lost in this.
Elleka Yost
Director of advocacy for the Association of School Business Officials International
---
This is not the first time schools have experienced a significant but temporary increase in federal K-12 funding. In 2009, in response to the Great Recession, Congress appropriated $98 billion for early childhood, K-12 and higher education to cushion expected declines in state and local funding. 
A 2012 report from the Center on Education Policy at George Washington University's Graduate School of Education and Human Development found that funding —  the American Recovery and Reinvestment Act, or ARRA — had largely done what it intended — prevent severe budget cuts and save education-related jobs. The report, based on summaries of analyses from 2009 to 2012, also found ongoing state and local budget cuts led to a slowdown in major reform efforts.
Given the experience with ARRA and the unprecedented challenges with COVID, as well as economic uncertainty in the country, the question many are asking about ESSER's return on investment is, how much improvement should be expected of schools?
For some education observers and insiders, including U.S. Secretary of Education Miguel Cardona, this is the moment school systems have the funding and momentum to make big, bold, impactful and permanent changes. 
"While we must stay cognizant and supportive of the challenges our heroic educators face daily to keep our schools open today, we must also simultaneously meet this moment in our country's history," Cardona said in a January speech. 
Other education experts are much more subdued in their outlooks. Just for schools to follow Centers for Disease Control and Prevention guidance for reopening schools safely for the 2020-21 school year costs about $25 billion, the American Enterprise Institute pointed out.
The purpose of the relief funds first and foremost is to respond to pandemic-related needs, said Elleka Yost, director of advocacy for the Association of School Business Officials International.
"What these funds are not intended for is to be a silver bullet or panacea to solve all inequities in education, or to balance things out for years of underinvestment of federal education funding before the pandemic, and that's what I feel gets lost in this," Yost said.
For their part, district leaders say while they are aiming for boldness and innovation, they understand the COVID recovery realities. They are particularly aware of how ESSER funding decisions may influence trust in future education spending practices. 
"I think that the hardest thing was a recognition that no matter what decision you make, that there were going to be people who were really, really displeased with that," said Ricca, the White Plains superintendent. 
"Now, I will say this, because we never deviated from being transparent, or being really clear about why we were making the decisions we were making, I think we fared well. It's still hard. You still carry that stress."