It's a unique position for a school principal to have — enough money to hire needed staff but no candidates to fill those positions. Another principal has seen his school's revenues increase significantly from the Elementary and Secondary School Emergency Relief fund but is having difficulty determining what expenses are allowable. 
These are among the benefits and downsides of having nearly $200 billion in additional federal funding available to schools so administrators can respond to the pandemic-related academic, social-emotional and safety needs of their communities. 
While much of ESSER's allocation under the Coronavirus Aid Relief and Economic Security Act of 2020 (known as ESSER I) went toward immediate learning and safety needs, administrators are funding more comprehensive programs with money from the two additional relief programs, known as ESSER II and III.
School principals interviewed by K-12 Dive say they are expanding learning opportunities and student and staff mental health supports using ESSER dollars for such varying and diverse initiatives as hiring additional staff, adding summer experiences, purchasing assessment software, buying pumpkins for staff and even holding classes on a ski slope. 
While all five of the principals interviewed say that as building leaders in their district, they were included in ESSER decision-making, some principals had more responsibility than others due to the size or structure of their district. Here's a look at these school leaders' ESSER experiences.
North Country Union High School, Newport, Vermont
The 700-student school serves students in grades 9-12 from 13 nearby towns and is considered its own district with its own school board. Principal Christopher Young said his school is receiving ESSER funding through a subgrant from the North Country Supervisory Union, which compromises area elementary, middle and high schools — including North Country Union High School.
The unique school organizational structure gives the high school autonomy to determine how it plans for and spends its funds. But it's also led to some challenges.
One of the biggest challenges, Young said, was figuring out what expenses were allowable under state and federal spending rules. "The toughest part has been the lack of clarity from any governmental agency on what we can and can't do," he said. 
The school received $2.1 million from ESSER II and III, Young said. While much of ESSER I funding was used for safety mitigation strategies and materials, the school community is planning to use the remaining relief funding for short-term and long-term student learning goals and other priorities.
One initiative is to reengage students. Before the pandemic, students at the school took national and international field trips tied to foreign language, science and history classes. Those trips were typically paid for through fundraising. 
Young wanted to use relief funding to finance field trips for all students, but the state education agency indicated that was likely not a reasonable or necessary expense. The school then decided to dedicate some funding for outdoor learning to promote healthy environments and student engagement. It purchased mountain bikes and snow ski passes for experiential learning tied to science, English and PE course work, Young said.
Other funding went to support learning by hiring seven additional instructional staff members to add to the 60-person instructional staff. The school also invested in interactive projection screens.
Although the paperwork has been cumbersome, Young said the relief money has been a major boost to the school's operations. A significant local tax rate increase would have been needed to make the improvements that ESSER has funded, he said. The extra federal funding will keep the school's budget healthy for at least several years, the principal said.
"For us, what that has meant is that we will have a fund balance at the end of the year, which is always a good problem to have. It allows us to be flexible with our planning for the budget," Young said.
Fountain Middle School, Fountain, Colorado
Principal William Dallas, whose Fountain Middle School has about 1,000 students in grades 6-8, has worked with other leaders in Fountain-Fort Carson School District 8 to prioritize ESSER spending. The district's ESSER III allocation was $9.9 million.
Several of those funding decisions have directly and indirectly benefited his school.
The funding, for example, has allowed the district to hire long-term substitute teachers for the middle school. The district also developed vaccination and COVID-19 testing clinics.
Dallas said his school received $10,000 to address staff wellness and morale. So far, the school has dedicated that money to encourage staff to participate in wellness activities, including rewards for taking walk breaks around the school's track or breaks for meditation. Staff who complete a certain number of wellness activities can pick out items for the school's wellness store, such as gardening tools.
The school also launched staff care mobile carts that bring treats to teachers like hot chocolate and homemade goodies. Around Halloween, the school used ESSER funding to buy pumpkins for the staff to carve during a professional development day.
"Staff are being rewarded for their efforts but they're also supporting one another," Dallas said. 
Because most final decision making and compliance for ESSER spending is at the district level, Dallas said the management of the additional funds hasn't been a burden.
He said he does worry about the national school staff shortage crisis, and that's why his school made staff wellness a funding priority. "We can't lose our teachers,"  Dallas said. "We can't lose our secretaries. We can't lose our custodians and our principals and our counselors."
Shiloh Middle School, Shiloh, Illinois
As one of only two principals in the pre-K-8 Shiloh Village School District #85, Shiloh Middle School Principal Darin Loepker has been involved in decision-making for the district's ESSER dollars — along with staff from each school and members of the larger school community.
The district's total ESSER allocation is $867,664, according to the Illinois State Department of Education.
Because of the district's small student population — Shiloh Middle School has 300 students in grades 4-8 — many ESSER investments benefited both the middle school and Shiloh Elementary School.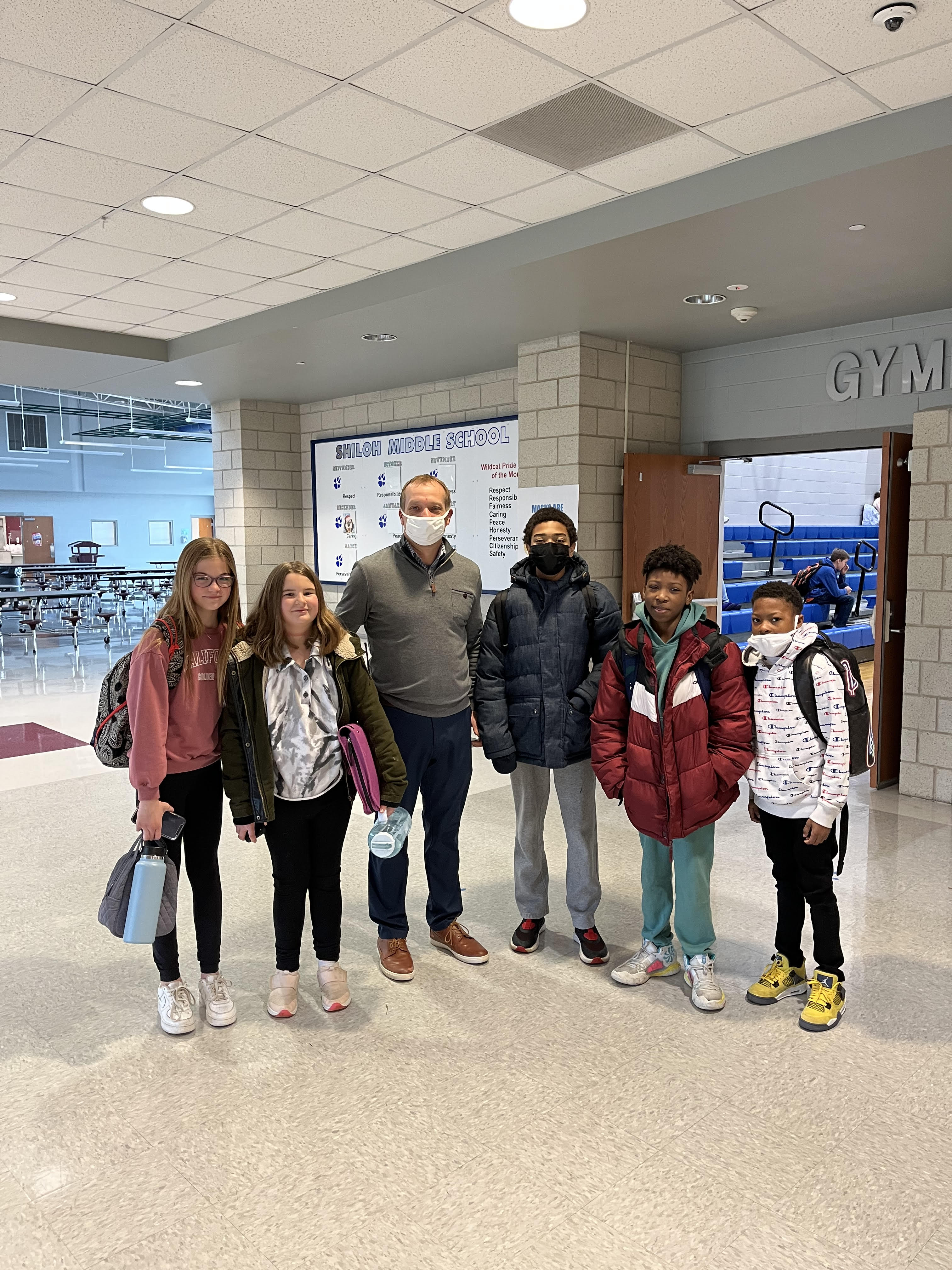 The relief funding allowed the district to place nurses at both campuses, where previously the schools shared one nurse. The district was also able to hire another administrator to oversee curriculum and student services. And, for the first time ever, the district operated a summer learning program, Loepker said.
The district is still looking at ways it can put ESSER funds toward supporting SEL and student mental health. "That problem is not going away with our kids, and it feels like it's getting more evident,"  he said. 
His students are well-behaved, but the inconsistency of full-time, in-person learning last school year has contributed to the urgency to address social and emotional behaviors, Loepker said.
Loepker said the hardest part of being a principal during the pandemic has been planning and budgeting for the unknown. "Everything that comes after the pandemic is uncharted territory," he said.
That is how the ESSER funding has helped the most — being able to respond quickly to pandemic-related needs, especially to the abrupt change to online learning in spring 2020 and the purchasing of personal protective equipment once schools reopened, he said. 
"We were able to get what we needed pretty quick," he said. "Thank God for it, because our building budgets and our district budget weren't prepared to handle that." 
Cullman High School, Cullman, Alabama
Responding to students' mental health and academic needs was the focus for ESSER spending at Cullman High School, said Principal Kim Hall. The school has about 900 students in grades 9-12, and even before the pandemic it prioritized mental health supports.
Hall worked with other school and district leaders in the five-school Cullman City School District to plan for its $4.6 million ESSER allocation to tie the investments to established school improvement plans and to maximize the relief money across all the schools. 
When her school needed personal protective equipment or tutoring programs, she could make those requests to the district office. Additionally, the district purchased software to assess students' academic growth and hired academic interventionists to help teachers identify areas of progress and needs.
A district-level decision to hire more mental health specialists and social workers is helping her school be more responsive to individual needs. Cullman High, for instance, was able to start a grief support group for people who have lost loved ones to COVID-19 or other causes.
The mental health specialist working with the district's middle and high schools is training teachers to incorporate social-emotional learning in their classrooms, Hall said. 
"This has really given us the opportunity to have open conversations to help students and teachers and families have these conversations, and not feel that there's a stigma" around mental health struggles, Hall said. 
These mental health investments will need to continue long after the ESSER funding is spent, she said. "I think that goes along with the ability to cope, the ability to communicate, the ability to process what our children have seen and heard and experienced and are still experiencing," Hall said.
Lincoln and Jefferson Attendance Centers, Carmi, Illinois
As a principal of two separate campuses, Amy Dixon has a unique perspective on how helpful the federal relief funding has been and what early learning needs will outlast the ESSER allocations.
Dixon leads the early-childhood-through-grade 1 Lincoln Attendance Center, which has about 200 students, and the grades 2-3 Jefferson Attendance Center that has about 150 students, according to the Illinois Report Cards for the schools. The pandemic's shutdowns, quarantine and mask requirements have impacted her young learners' attendance, social-emotional development and progress in speech and reading development, she said.
"My kindergarten through 2nd grade students have really never attended school without a mask on," said Dixon, adding that because of window air conditioning units and the masks, it's been difficult for young students to hear letter sounds and word formations.
The Carmi-White County CUSD 5's $4.4 million ESSER funds are helping to pay for a reading interventionist, a special education teacher and a part-time nurse for her schools. Dixon said she is also hoping to hire an additional part-time social worker.
The struggle is finding available candidates. A speech pathologist position has been posted for several months and remains unfilled, Dixon said. For a long time, Dixon wanted to provide consistent after-school tutoring. Thanks to ESSER, she finally has the money to do so but is unable to hire enough bus drivers to take students home.
"It's just frustrating when you have the money but you just can't pull it off because you don't have enough personnel," Dixon said. "If you are lucky enough to find a person, then you just worry about being able to sustain those positions when the money dries up."
Despite the staffing challenges, Dixon said she is grateful for the federal funds.
"This is the first time that federal dollars have truly funneled directly to our school district and have been very easy to obtain and spend, and we've been given more leeway than any other grant program that I have been involved in.