When Richard Gordon looks for potential local businesses and nonprofits to partner with the Charleston County School District in South Carolina, where he is executive director of the Career and Technology Education, he drives his car all over the region, which hugs the Atlantic Ocean. He also calls businesses directly and drops in at career fairs to introduce himself to companies.
In short, he's not shy. And while making the first connection with businesses and organizations takes work for CTE leaders, building and nurturing those relationships is the more difficult part.
"I think the most important aspect of a good, successful and productive partnership are [having] the right people with the right mindsets that want to help kids at the end of the day," Gordon said.
It's also about remaining flexible, particularly in this COVID-19 recovery time where businesses may have less — or more — capability to collaborate with schools.
A report released in March by the Association for Career and Technical Education noted "significant enrollment declines" in CTE courses this school year and concerns about possible funding declines and instructor shortages in the years ahead. The ACTE report, however, highlighted how CTE programs have been pliable during the pandemic as programs adapted to online learning or managed hybrid and socially-distanced models.
One major struggle during the pandemic has been providing work-based learning experiences, the report said. But there have been some creative online and in-person approaches, such as Assabet Valley Regional Technical High School in Marlborough, Massachusetts, which worked with the local health system to train students to administer COVID-19 vaccines.
Here, three CTE leaders offer advice for keeping school-business connections strong by cultivating relationships and working through challenges.
Charleston County School District in South Carolina
Gordon said his department aims to prepare students to be "future ready," to recognize that there is a nearly endless list of postsecondary school options students can take.
"What I try to do with our team, the Career Technology Education Support Team, is to prepare our kids for all types of futures," Gordon said.
Collaboration with regional businesses is essential to that preparation, which begins in elementary school with career awareness activities, in which guest speakers from different careers present to students. Middle-schoolers have career exploration opportunities, including lessons on how to prepare for a career and job site visits. Career preparation starts in high school, where students can participate in internships, apprenticeships, job shadowing and work-based learning projects.
The district's business partners — there are more than 100 —  help not only with technical training through on-the-job activities, but also with the district's strategic planning for curriculum and employability training, Gordon said. For example, engineers working at businesses give suggestions for what math and science courses would be helpful for future engineers based on current in-demand skills.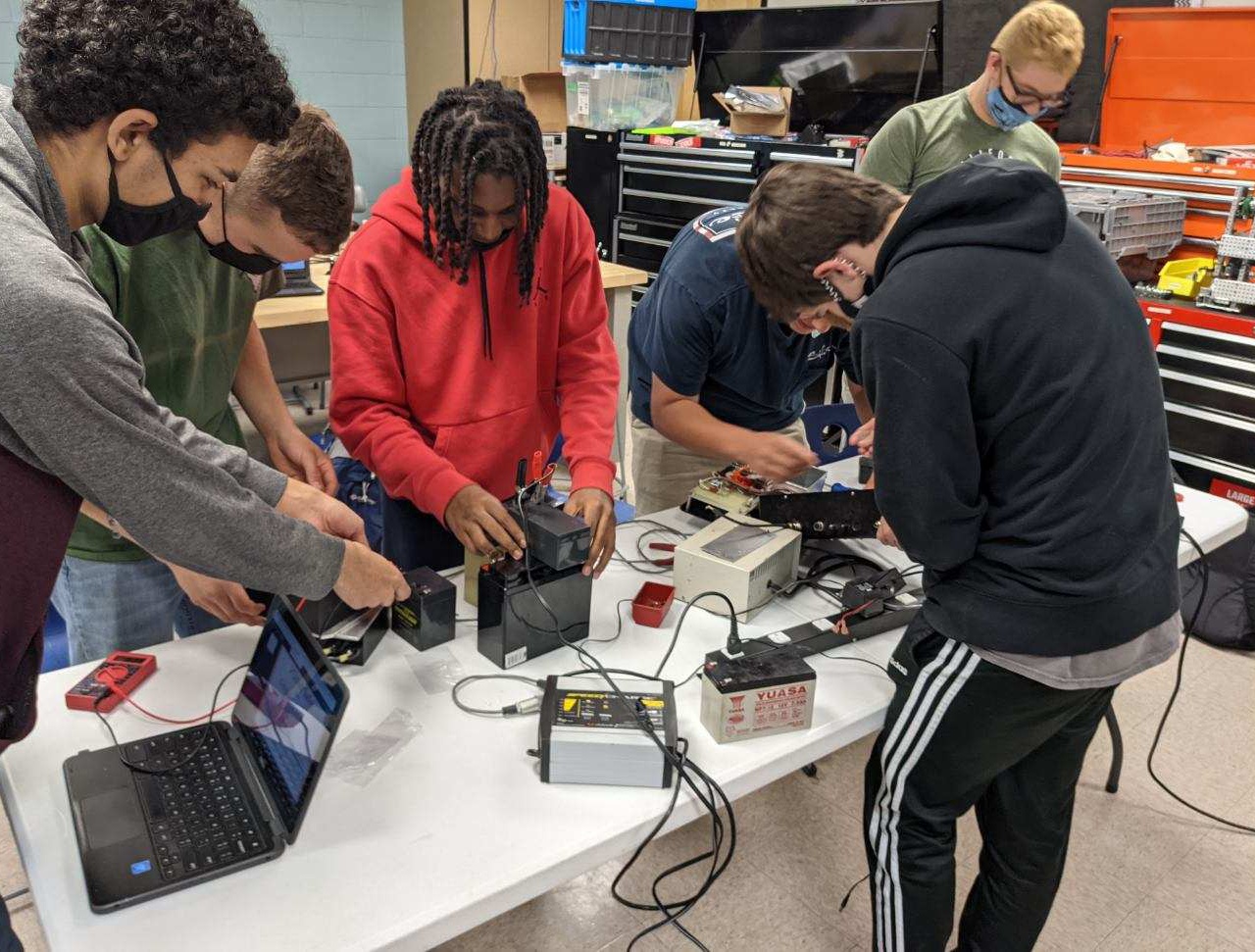 Gordon is not picky about what types of businesses or organizations the district partners with or the intensity of the commitment. Some partners might not host students but can offer advice and recommendations about labor needs. Other employers can offer more comprehensive involvement, such as Stevens Towing, where Mathilde Dumond works in the office of training and development and oversees groups of student apprentices learning welding skills at the shipyard. 
Collaborating through challenges is another element of successful school-business partnerships, Gordon and Dumond said. Safe and reliable student transportation from schools to Stevens Towing was one obstacle the partners worked through by allowing a mix of school bus and personal vehicle use. The district and business also problem-solved the complexities of internship schedules for student athletes, Dumond said.
Gordon recommends partnerships become a win-win for the district and the businesses. One example he points to is the job postings on the district's CTE website that help connect student and employer needs.
"If we provide this academic, technical and employability training for these kids in the high-skill, high-demand and high-wage occupations of the future global economy… we're going to change and transform communities," Gordon said.
Hays Consolidated Independent School District in Kyle, Texas
The goal of Hays Consolidated ISD, located about 30 miles from Austin, is to give every student a chance to have an internship before graduation. Executing that goal requires partnerships with many types of businesses that would meet a variety of student interests, said district CTE Director Suzi Mitchell.
To help with that effort, the district hired a full-time workforce development coordinator four years ago to help build and strengthen business partnerships, which allowed Mitchell to not only help promote the CTE program through chamber of commerce events and other activities, but to focus on updating the curriculum, she said. Mitchell also works with businesses to plan school and district-wide events for students, such as Manufacturing Day with Lewis Sign Builders and Careers on Wheels Day with many area businesses, Mitchell said.
The partnerships the district has formed allow students to get knowledge and experience in cybersecurity, firefighting, multimedia art, cosmetology and much more, Mitchell said.
"We're changing lives one student at a time," she said.
San Marcos Consolidated School District in San Marcos, Texas
The hands-on practical work experiences businesses can offer students is a very valuable part of San Marcos Consolidated School District's CTE experience, said Michael Doyle, director of CTE and federal programs.
For example, prior to COVID-19, San Marcos CISD's culinary and hospitality students got to work at an area Embassy Suites conference center and train in welding at Epic Piping, Doyle said.
Another key partner in the district's efforts is the local Chamber of Commerce, which can introduce the district's CTE program to business leaders across the region and inform the school district of hiring trends, Doyle said.
"Reach out to your local chamber of commerce and share your vision with them and help them connect you to all the facets of the industries that are in your community," said Doyle, who takes a similar approach to Charleston County School District's Gordon of visiting businesses to introduce himself and talk about the district's CTE goals and how the business may help those efforts.
Doyle also advises school districts to be open to feedback and suggestions from the business community, and to consider creative solutions for CTE needs. The CTE programs at San Marcos CISD, which is also located near Austin, and Hays CISD, for example, have partnered with each other to host a regional job fair for students, Doyle said.
Lastly, Doyle recommends CTE programs recognize the hard work to make solid school-business partnerships really can bring rewards to students and a businesses' workforce.
"These people who are in the businesses have made it their life, and they're passionate about it, and they're excited to see students who have that similar passion and desire, and they are willing to help them," he said.