The Inflation Reduction Act's new direct pay option is creating tremendous opportunities for schools across the nation to access solar power affordably. Direct pay means school district leaders can realize their visions for the future and modernize energy infrastructure, all without creating additional debt.
But why should school districts consider installing solar? As school leaders consider if solar is right for their district, they should look to how early adopters have benefitted. An excellent case study to consider: Richland County School District One, referred to as Richland One. This Columbia, South Carolina school district's award winning solar power array includes 8.7MW of rooftop and carport solar panels, installed to offset energy consumption at the 15 district campuses with the highest power usage.
Let's explore how Richland One is benefitting from solar power, and why this new rebate should make solar even more attractive for school district leaders.
Generating Solar Power Can Save Money on Energy Bills
A key benefit to installing solar panels on campus is that it can reduce energy costs significantly. Generating your own energy means no longer being reliant on the local utility for electricity, which is especially helpful as energy prices continue to rise year over year. Of course, average savings and solar generation capacity will vary depending on your region of the country. But the bottom line is that solar power could mean lower energy bills and long-term energy cost stability in your district's operating budget.
At the 15 school campuses where Richland One chose to install their solar arrays, the district is projected to see a 70% reduction on average in energy drawn from the local utility grid. In conjunction with their other energy system modernizations, that amounts to over $1 million in energy savings as of the end of 2022. Over the next 20 years, Richland One's solar panels are projected to save the district an additional $29.3 million in energy costs.
What's more - those solar panels won't just save money; they'll make it too. Through an innovative Net Metering program with local utility Dominion Energy, whenever Richland One generates excess power but doesn't consume all of it, they'll receive financial credit at the same rate they would have paid for purchasing it. Additional revenue from the renewable energy generation will help fund continuing maintenance and improvements across Richland One campuses, placing the district in a position to be less reliant on funding from taxpayers to upkeep schools.
Richland One is turning their new solar arrays into an opportunity to both generate energy and achieve net-zero energy consumption. The addition of these solar arrays is just the next step in a district-wide comprehensive infrastructure modernization project started in 2020, which also included:
Energy efficient LED lighting upgrades ​

Building automations to expand the useful life of equipment​

HVAC replacements for healthy indoor air quality ​

Electrical infrastructure modernizations for reliable power​
These projects highlight for the community how the district's leadership is committed to being good stewards of energy usage and finding innovative strategies to conserve resources.
Solar Panels Offer STEM Learning Opportunities for Students
Having solar panels on campus also offers great STEM learning opportunities for teachers to utilize. Students get to experience first-hand how our modern world works by seeing how their school generates its own power from the sun. This kind of hands-on learning could spark an interest in engineering or renewable energy technology, which could lead to exciting future career paths for students down the road.
Richland One's leaders saw their ambitious energy infrastructure project as an opportunity to integrate new STEM learning tools for the district. "STEM is a cornerstone of our curriculum across the district, and we are excited to show our students how the earth's natural resources can be transformed and create such a substantial impact in their lives," said Miles Hanley, Richland One's energy manager.
Energy dashboards that display a data feed of solar power being produced have been installed in the lobby of each school. Corresponding hands-on lessons about energy generation, conservation, carbon impact and sustainability have been provided to create learning labs featuring the new energy dashboards.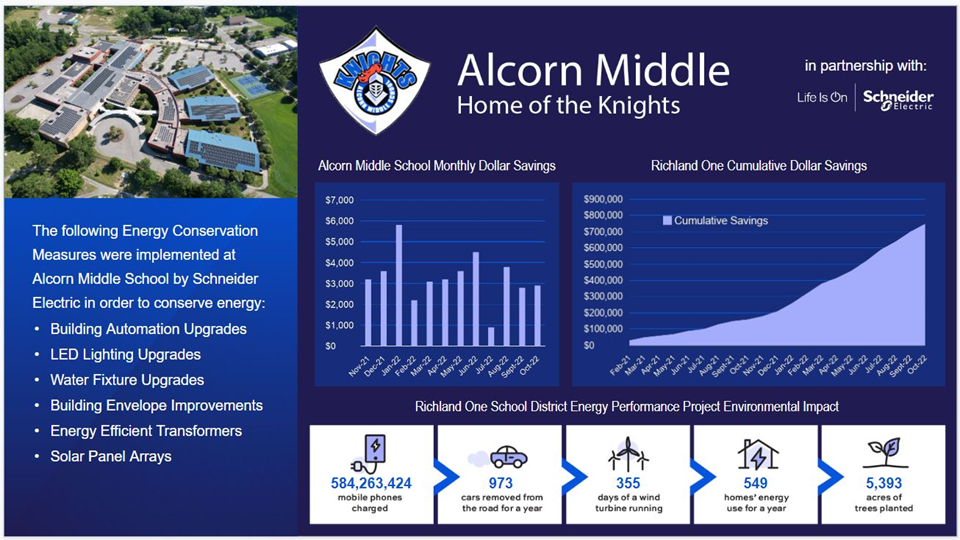 As their design and construction partner on this project, Schneider Electric has also partnered with Richland One to provide additional student learning opportunities. The company has opened up its local manufacturing facility to a variety of student engagement and hands-on learning opportunities, as well as ongoing educational partnerships to help the district.
Onsite Solar Power Installations Make Schools More Resilient
One of the most important benefits of having solar panel arrays at school buildings is that they make them more resilient against extreme weather and natural disasters, such as hurricanes, tornadoes, and wildfires. Solar power lends itself well to resilience building, especially in conjunction with technologies like battery storage and microgrids, empowering schools with uninterrupted electricity during outages. Having your own source of electricity can be a life-saving measure during these times and can help schools avoid the worst challenges of unexpected weather events, including:
Loss of educational hours required for state funding

Food spoilage from extended periods of time without adequate temperature control

Risking the safety and comfort of staff and students without lights, heat, cameras, fire alarms and in some cases, even water supply

Insurance limitations and utility reimbursement policies requiring districts to absorb financial burden during planned outages

Lack of resources for students who require additional support, such as school-issued meals
Resilience is not only important for students and teachers, but also provides advantages to the community at large. Since schools often serve as the central gathering point during times of emergency, solar powered schools are well placed to act as shelters or emergency management centers – not only providing protection in an extreme situation but also helping the local community to remain strong after any disaster.
Being located in sunny South Carolina makes Richland One well-suited for solar power, but it also means the district is no stranger to extreme heat, storms, and flooding. Luckily, the district's investment in technologies that will generate savings have in turn created a revenue stream to fund resiliency improvements. Energy savings have so far funded a telecommunications overhaul, improving district-wide emergency communications; interior and exterior lighting upgrades to bring emergency lighting up to current building code standards; and building envelope improvements that renew aging buildings to better withstand extreme seasonal weather patterns and increase comfort for students and staff.
Solar Power: A Smart Investment for Any School District
From saving money on energy expenses, to preparing students for success in a rapidly changing world, solar power is more than just an environmentally-friendly choice. Plus, solar has never been more accessible to schools thanks to new tax provisions in the Inflation Reduction Act (IRA). Now's the time to act and start benefitting from solar power's many advantages.
Schneider Electric's approach to solar takes your school district's broader goals into account, utilizing your energy savings to make your goals a reality. Appreciating that no one strategy fits every situation, we work with school districts by applying a customized approach to their journey to solar power.
If you want to learn more about how to put solar power to work in your district, contact us to discuss how Schneider Electric can enable your vision.